This free printable family summer bucket list template can be customized with your list of fun ideas. This is the perfect way to help get your family excited for summer break. Instructions to get it printed poster-size and a long list of ideas are included!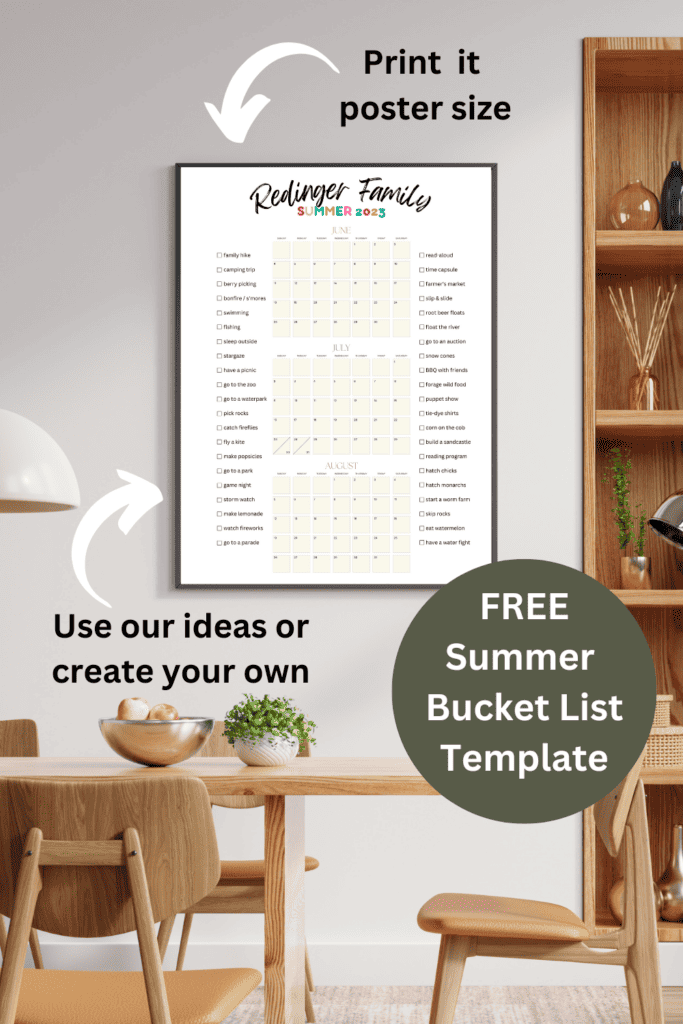 Even though we are a homeschooling family, we still look forward to summer vacation each year. Where we live in Wisconsin, snow falls 8 months out of the year. This means that we have just a few summer months to grow all of our family's food for the year, soak up our vitamin D, and enjoy the warm weather. With the excitement of the summer season just around the corner, we decided it would be fun to create a summer bucket list.
This isn't the first year we have made a family summer bucket list, but usually it is scribbled on a piece of paper and eventually lost among the chaos of 7 children. While we always have a great time coming up with ideas, this year we came up with a better way to keep track! We printed our family bucket list on poster-size paper and hung it in our pantry so that everyone can see it. I also added calendars to the poster so that we can keep track of all that we have going on.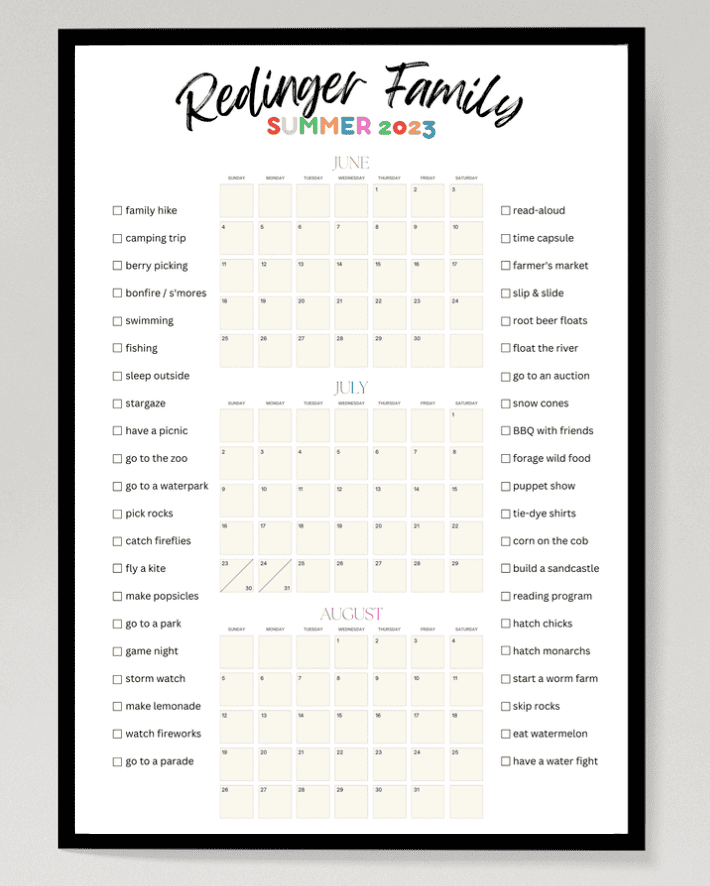 How to Make a Customized Family Summer Bucket List Poster
If you would like to make and print your own, here are the steps to do this:
The first thing you will need to do is to click on the link below to access the template. You will enter your email address and the link will be sent to your inbox.
Click on the link in your email. I have given you a few different sizes you can choose from as well as different font options for each size. You will be taken to the template with editable pages in a program called Canva. Canva is completely free to use. This program will allow you to click on both the last name and the list of family summer bucket list ideas so that you can customize them. You can use the ideas already on the template, or replace them with your own ideas and list of things to do. I have also listed a bunch of ideas below.
Download the finished document to your computer. Make sure to only select and download the page that you customized, as there are several pages due to the different font options. Also, download it either as a Jpeg, and then slide the size and quality sliders all the way to the right, or download it as a pdf. Check to see which format your printer prefers.
To have it printed poster-size, my favorite printing option is your local printer. Even in our small town, I was able to get it printed for cheaper than any online option and I was able to support a local business. I was also able to send them the pdf version. The cheapest place I have found online is Walmart.com. Simply go to their Photo Center, under services. Then select "Poster" and 24"x36" (or whatever size the template you used was). Upload your family bucket list design to the "full photo" option (upload the high-quality jpeg version) and pay to have it sent right to you! So easy!
Important note: This template is copyrighted and protected property and may only be used for personal use.
Some of the links in this post may be affiliate links. This means I may make a small commission if you purchase through these links at no extra cost to you.
Tips for Creating and Using a Family Summer Bucket List
1
Don't give yourself anxiety by making the list too hard.
These don't need to be new things your family has never done. You will notice that many of the items on our list are things that we probably would have done anyway. So why write them down? I have found that writing down all of the exciting activities we are going to do in summer, even the ones we do often, helps everyone appreciate them more.
Checking off these things allows us to look back and see how much fun we had, even when it feels like the summer flies by so quickly. If you make a list of elaborate plans, it is only setting your family up for disappointment when all of those things don't get done. In fact, if I am thinking about a trip we might take or something big that's not a definite plan, it doesn't make the list just in case.
2
Set realistic goals and keep in mind your family's summer schedule and budget.
After brainstorming, prioritize the activities based on feasibility, interest, and time availability.
3
Make sure to involve the entire family in the process of coming up with bucket list ideas and filling out the calendar.
This is one of our kid's favorite family meetings each year! Encourage each family member to contribute their own suggestions and interests. This way, everyone feels included and excited about the activities.
4
Mix it up to include a variety of different ideas and activities that cater to different interests and age groups.
You want to get your whole family excited about the summer fun ahead- even the little ones. Mix indoor and outdoor activities, physical and creative pursuits, and educational and recreational experiences. This will ensure there's something for everyone and keep the list diverse. I even like to sneak some school-related projects in there. Hatching eggs and butterflies, and going to the zoo are examples of ways to have fun and learn at the same time.
5
Not sure where to find ideas for your list of fun summer activities? Try out chapGPT!
You can ask this AI tool to make a list of summer bucket ideas or even to come up with a list of fun activities to do in your local area. For example, I tried typing in "What are some fun family activities to do in the Ashland, WI area?" I got a great list of ideas even in this rural small town! For other great ideas to add to your own list, you can consult Pinterest or Google.
6
Consider local attractions.
Explore the local community and nearby attractions when creating your bucket list. Look for festivals, fairs, parks, museums, new places, and other events happening during the summer. Your town's event calendar is a great place to start and is often filled with free activities and entertainment. Discovering hidden gems in your own area can be an exciting and cost-effective way to have fun.
7
Include both group activities and activities that encourage independent play.
With a large family, independent play is often something our little ones have to learn since playmates are always available. Group activities help families to bond.
Remember that the bucket list is a guide, not a strict itinerary. Allow room for spontaneity and be open to new opportunities that may arise during the summer. Adjust the list as necessary to accommodate unexpected events or changes in circumstances.
9
Even if you don't use this free family bucket list template, creating a visual display can be very helpful for keeping track.
Once you've finalized your own bucket list, a visual display is a good idea to make it more engaging and motivating. You can use a large poster board, a chalkboard, or a digital display. Put it up in a prominent place where everyone can see it, like the kitchen or living room, to serve as a reminder and inspiration. Our poster is on our pantry wall where everyone can see it easily.
10
Use the list as leverage.
Unfortunately, we adults know that we can't play all summer. There are chores to be done and summer projects to complete alongside all of the fun. An easy way to motivate your kids to help with the not-so-fun tasks is to create a schedule where once some work is complete they can be rewarded with a fun activity off the list.
11
Create a loose summer schedule and plan out when you will do things.
Assign specific dates or time frames to the different activities, and plan accordingly. This will help ensure that you allocate time for each item and avoid leaving everything until the last minute.
As you complete activities from the bucket list, mark them off or add stickers to visually track your progress. This helps everyone feel a sense of accomplishment. Celebrate each achievement as a family, and reflect on the memorable experiences you've shared. A summer photo book at the end of summer can be a great way to remember all of those fun memories you made.
Finally, remember that the most important part is to have fun and create lasting memories together as a family. Enjoy the process of planning your family's summer bucket list items and then partaking in those experiences together. If things don't get done on the list, just tell the kids that you already know what to add to next year's list to keep the excitement going.
Fun Family Summer Bucket List Ideas
Make your own summer bucket list with this list of activities!
1. Plan a fun "last day of school" party or cookout
2. Water balloon fight
3. Play with sidewalk chalk
4. Have a water fight with water guns
5. Summer crafts
6. Do a science experiment
7. Tie-dye shirts
8. Make a bird feeder
9. Family bike ride
10. Day trips to nearby attractions
11. Plan a fun road trip to visit friends
12. Make blanket forts on a rainy day
13. Build a sand castle
14. Learn a new skill
15. Turn a pile of sand or dirt into a great place to play (and fill it with dollar store trucks, buckets, and shovels)
16. Make homemade ice cream
17. Host a BBQ
18. Family hike
19. Camping trip
20. Go berry picking
21. Roast s'mores over a campfire
​22. Go swimming
23. Go fishing
24. Sleep outside
25. Stargaze
26. Have a picnic
17. Go to the zoo
18. Go to a waterpark
19. Go to a museum
20. Pick rocks or collect shells at a beach
21. Catch fireflies
22. Fly a kite
23. Make popsicles
24. Go to a playground or park
25. Have a family game night
26. Watch a storm
27. Make lemonade
28. Watch fireworks
29. Go to a parade
30. Go to a local town festival
31. Complete a read-aloud with the family
32. Participate in your local library's summer reading program
33. Create a time capsule
34. Go to a farmer's market
35. Create a slip and slide
36. Make rootbeer floats
37. Float down a river
38. Go to an auction
39. Make snow cones
40. Have a BBQ with friends
41. Forage for wild food
42. Have a puppet show
43. Eat corn on the cob
44. Build a sand castle
45. Hatch chicks
46. Hatch monarchs
47. Start a worm farm
48. Skip rocks
49. Eat watermelon
50. Plant a garden
51. Get a new animal
I hope you find this free summer bucket list printable and idea list helpful in planning your best summer yet!
For more fun and free printables make sure to subscribe to my email list as well.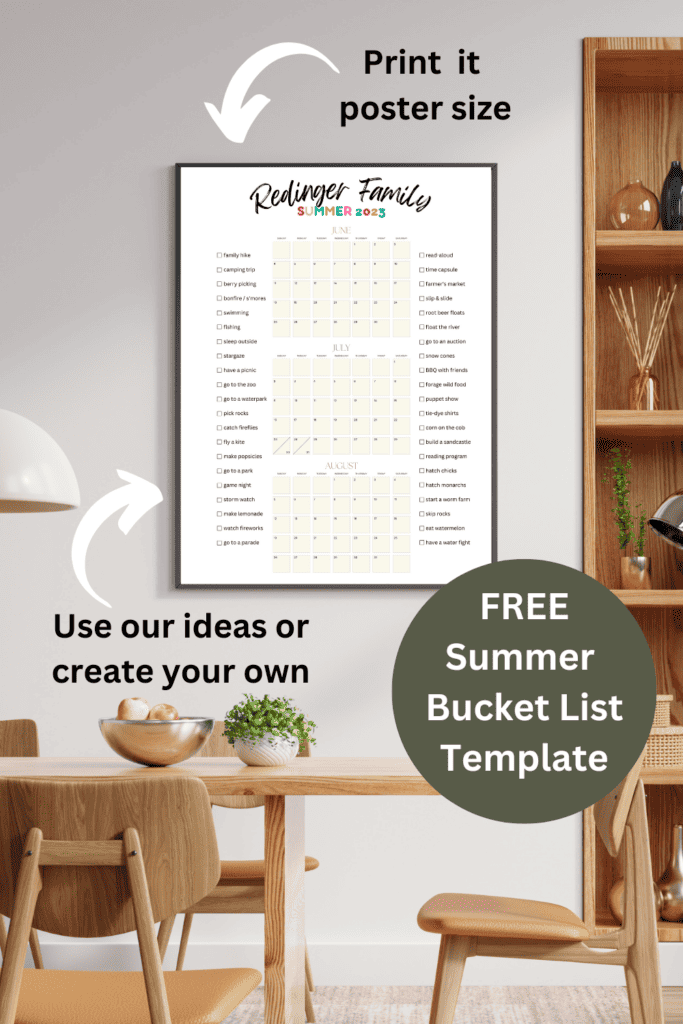 Want to save this
idea for later?
Did you make a summer bucket list using this template?
Mention us @thefromscratchfarmhouse so we can see your creations! You can also add your summer bucket list ideas in the comments below!