The Instant Pot cranberry sauce is not only quick and easy, but it is amazingly delicious too! Whether you are whipping it up right before your Thanksgiving dinner, or canning it to make it shelf-stable (hello convenience!), you will love this recipe.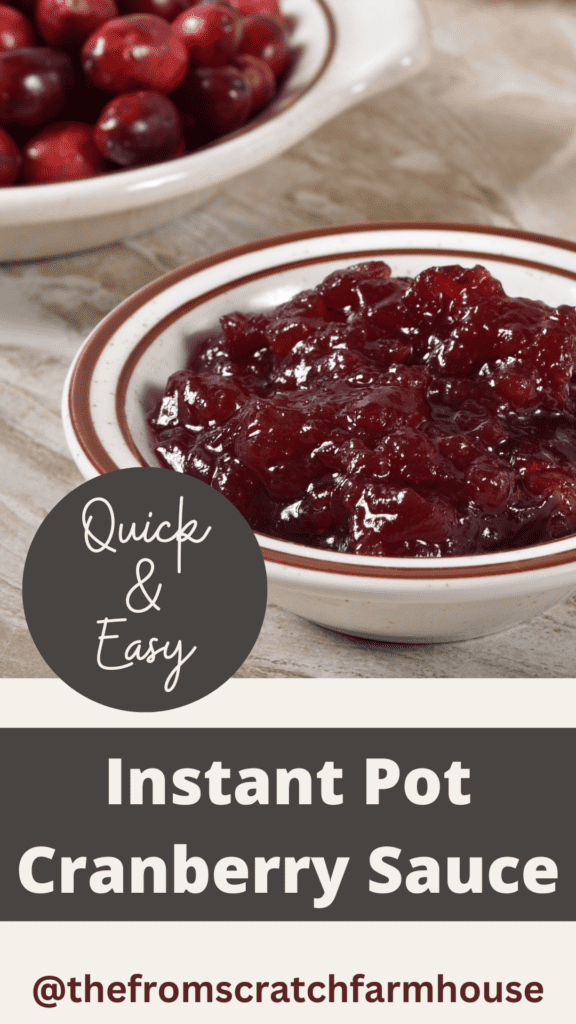 First, a little confession… I used to hate cranberry sauce. My mom would always buy it at Thanksgiving and the gelatinous concoction never interested me.
The funny thing about traditions is that even though I didn't like it, I still bought the same can of cranberry sauce every year for my family!
One year I had forgotten to buy the canned stuff and decided to make my own. I also, of course, had limited ingredients to work with and limited time. I decided to combine a few online recipes and add my own flare, taking into account what I had to work with. This strategy of cooking doesn't always pan out for me, but this time it created a family favorite!
I still remember the first bite. This was not the cranberry sauce of my childhood. This was SO much better!
This cranberry sauce is great to whip up on Thanksgiving for an easy side to turkey and mashed potatoes. It's also great for pouring into a Mason jar and hauling to your family gathering. Trust me, your friends and family will be so impressive because it will look like you spent a ton of time on this from-scratch cranberry sauce!
Another perk to this recipe is that it can be made ahead and canned for long-term storage. While Instant Pot cranberry sauce doesn't take much time, it sure is nice to have it on the shelf and ready to go.
Also, around November cranberries are in season and at their best price. It's great to stock up and then preserve them in this delicious cranberry sauce.
What do you need to make the best Instant Pot cranberry sauce?
Ingredients you'll need for this recipe
* You will also need an Instant Pot or other electric pressure cooker
How to make the best Instant Pot cranberry sauce
Place all of the above ingredients in your instant pot, except for the vanilla. Stir well to combine.
Lock the lid in place and turn the vent to sealing. Choose manual setting, high pressure, 4 min.
Let the pressure release naturally. This should take 20-25 min.
Remove orange zest and cinnamon. Mash or blend with an immersion blender until it is the desired consistency.
Stir in vanilla. Let cool. Can be refrigerated 5-7 days.
How to can cranberry sauce
Pour the hot cranberry sauce into pint canning jars. Wipe the rims and add lids and bands.
Process in a water bath canner for 10 minutes. Increase this time according to your altitude.